Thirty and Thriving: Creative Gift Ideas For The Big 3-0 Birthday Celebration!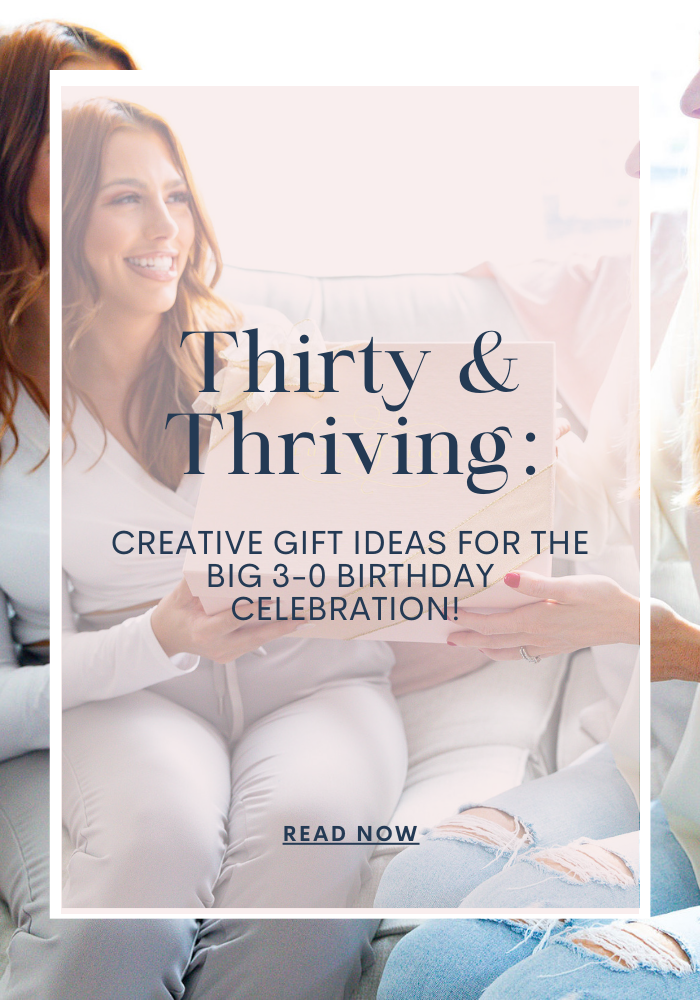 T

he Importance of Celebrating Milestone Birthdays

Milestone birthdays are significant events that mark important turning points in our lives. They provide an opportunity to reflect on the past, celebrate the present, and look forward to the future. Turning 30 is one of those milestones that many people look forward to with excitement and anticipation. You're leaving behind the insecurities and confusion of your 20s and stepping into a new chapter of life. It's a time to celebrate all that you've accomplished so far and all that's yet to come. Whether it's a big blowout party or a more intimate gathering, celebrating this momentous occasion is a must. Don't let this milestone pass without taking the time to celebrate it properly!

 
The Benefits of Choosing a Curated Gift Box for a 30th Birthday
Opting for a curated gift box is a game-changer when it comes to a 30th birthday celebration. It's a thoughtful gesture that shows your loved one you've put effort into selecting something extraordinary just for them.
Picture this: instead of spending hours racking your brain, trying to come up with a gift idea that will knock her socks off, you can sit back, relax, and let the experts do the work. No more wandering through stores aimlessly! Curated gift boxes take the guesswork out of gift-giving, providing you with a selection of top-notch goodies that are bound to impress.
And if you want to create something a little more personal, you can even choose to build your own custom gift box. That's right – you become the curator, handpicking each item to create a truly personalized present. Select items that reflect her unique tastes, hobbies, and preferences. Whether it's a cute coffee mug, a luxurious skincare product, or a decadent treat, building a custom gift box allows you to add that extra touch of thoughtfulness and meaning. It's like creating a one-of-a-kind treasure trove of surprises tailored exclusively for her. So, if you're up for the challenge and want to showcase your creativity, consider building a custom gift box that will leave her speechless. It's a wonderful way to demonstrate just how well you know and appreciate her on this special occasion.

Whether you opt for a curated gift box or decide to build your own custom box, the joy and excitement of receiving a beautifully packaged assortment of handpicked items will make her 30th birthday celebration even more memorable. So, say goodbye to gift-giving stress and hello to the delight of giving a truly extraordinary and meaningful present. Let the magic of curated gift boxes or your own personalized creations bring a smile to her face and make her milestone birthday celebration truly unforgettable.
Our Top 5 Creative Gift Ideas for a 30th Birthday
The Bloom Gift Box is a perfect choice for a woman's 30th birthday because it offers a well-deserved indulgence in self-care. Turning 30 is a significant milestone, and it's essential to take a moment to reflect and prioritize personal well-being. With luxurious bath and body products, the recipient can pamper themselves and enjoy a moment of relaxation. The apple cinnamon tea adds a cozy touch, inviting her to unwind and savor the flavors. The sleep mask ensures a restful sleep, promoting rejuvenation and a fresh start in this new chapter of life. And let's not forget the pretty pillow scrunchies, which serve as a practical yet stylish accessory to keep her hair out of her face as she embraces some much-needed me-time. The Bloom Gift Box is a thoughtful gesture that encourages the birthday woman to take care of herself and cherish the journey she's embarking on. 
When it comes to celebrating a woman's 30th birthday, the Let's Toast Gift Box is a delightful choice that adds a touch of elegance and celebration. Toasting to this milestone is a wonderful way to honor the accomplishments and experiences that have shaped her life so far. With the TÖST ROSÉ Non-Alcoholic Refresher, she can enjoy a delicious and refreshing drink that still embodies the spirit of a toast. The Pop The Champagne Gourmet Popcorn adds a playful and gourmet twist, combining the flavors of white hulless popcorn and premium Belgian white chocolate infused with natural champagne extract. It's an explosion of taste that matches the excitement and joy of reaching 30. The Grateful Heart Notepad offers a space for her to express gratitude and reflect on the blessings in her life. And to set the mood, the Capri Blue Pink Grapefruit & Prosecco Gilded Tin Candle fills the air with a delightful aroma, creating a celebratory ambiance. The Let's Toast Gift Box is a chic and sophisticated choice that captures the essence of this milestone birthday and encourages her to revel in the moment.
Of all the gift options for a woman's 30th birthday, the Forever Young Gift Box stands out as a perfect choice to embrace the spirit of youthfulness and fun. This curated box offers a combination of delightful treats and self-care essentials that cater to her inner child. The Musee Forever Young Bath Soak invites her to immerse herself in a soothing and nostalgic bath experience, allowing her to unwind and reminisce about carefree days. The Sugarfina birthday cake cookie bites bring a touch of sweetness and playfulness, reminding her to indulge in the simple joys of life. The Sundae Best Chocolate Face Mask adds a whimsical twist to her skincare routine, making it a delicious treat for her skin. And the Happy Birthday Boxed Bath Balm adds a burst of color and fragrance to her bathing ritual, making it an extra special and indulgent experience. The Forever Young Gift Box is a wonderful way to celebrate turning 30 while embracing the youthful spirit that will continue to inspire her throughout this new phase of life. 

For a woman's 30th birthday, the Cheers Gift Box is a fantastic choice that captures the essence of celebration and joy. This gift box is designed to mark significant milestones and achievements, making it an ideal tribute to the journey of the past three decades. The Aprés Chocolate Bar is a delightful and indulgent treat that pairs perfectly with the occasion. It combines the tasting notes of sparkling white wine-infused cacao with the sweet tartness of raspberries, creating a decadent flavor that will make her taste buds dance with delight. The Cheers Matchbox, with its 75 black-tipped safety matches housed in a stylish white and metallic gold box, adds a touch of sophistication and elegance to any celebratory moment. The Capri Blue Guava Blossom Candle brings a fresh and invigorating fragrance to the atmosphere, enhancing the mood and setting the stage for a memorable birthday celebration. And let's not forget the Champagne Bubbles Candy, which adds a playful and bubbly touch to the festivities. The Cheers Gift Box is a wonderful way to toast to her accomplishments, aspirations, and the exciting future that lies ahead.
Lastly, the You Are Loved Gift Box is a heartfelt and meaningful choice to honor a woman's 30th birthday. This curated box is designed to remind her of her worth, beauty, and the love that surrounds her. Inside the signature blush box, she will discover a gorgeously illustrated inspirational book, serving as a constant source of motivation and encouragement on her journey ahead. The blissfully bubbling bath soak offers a serene and calming experience, allowing her to unwind and rejuvenate her mind, body, and soul. The fierce gold tin candle adds a touch of warmth and ambiance to her space, creating a soothing and cozy atmosphere where she can find solace and inspiration. And the harmonious milk chocolate bar is a sweet indulgence that symbolizes the sweetness of life and the love that fills her heart. The You Are Loved Gift Box is a powerful reminder that she is cherished, valued, and supported every day, regardless of the milestones or challenges she encounters. It is a gift that celebrates her essence and reminds her of the love that surrounds her as she enters this exciting new chapter of life.
How to Create A Custom 30th Birthday Gift Box
When creating a curated gift box for a 30th birthday, it's important to customize it to fit the recipient's interests and personality. Start by selecting a theme or color scheme that the recipient will love. Then, choose items that fit that theme, such as books, candles, or gourmet snacks. The icing on the cake is a personalized and handwritten note in the card to make the gift even more special.
Conclusion: Celebrate the Big 3-0 in Style with a Curated Gift Box
A curated gift box is the perfect way to celebrate a 30th birthday. Each box is carefully crafted to embody different aspects of this milestone, whether it's indulging in self-care, toasting to achievements, embracing youthfulness, or acknowledging the power of love. By selecting one of these gift boxes, you not only provide her with a tangible present but also convey a deeper message of care, thoughtfulness, and celebration. Make her 30th birthday a memorable occasion by choosing a curated gift box that reflects her personality, interests, and aspirations, and let her know that this momentous milestone is worth commemorating in a special and meaningful way. With the ability to customize the box to fit the recipient's interests and personality, it's a practical and enjoyable gift that they're sure to love. So why not give the gift of thoughtfulness and celebrate the big 3-0 in style with a curated gift box?