Gifting With Gratitude: Our Guide To Sending The Perfect Thank You Gift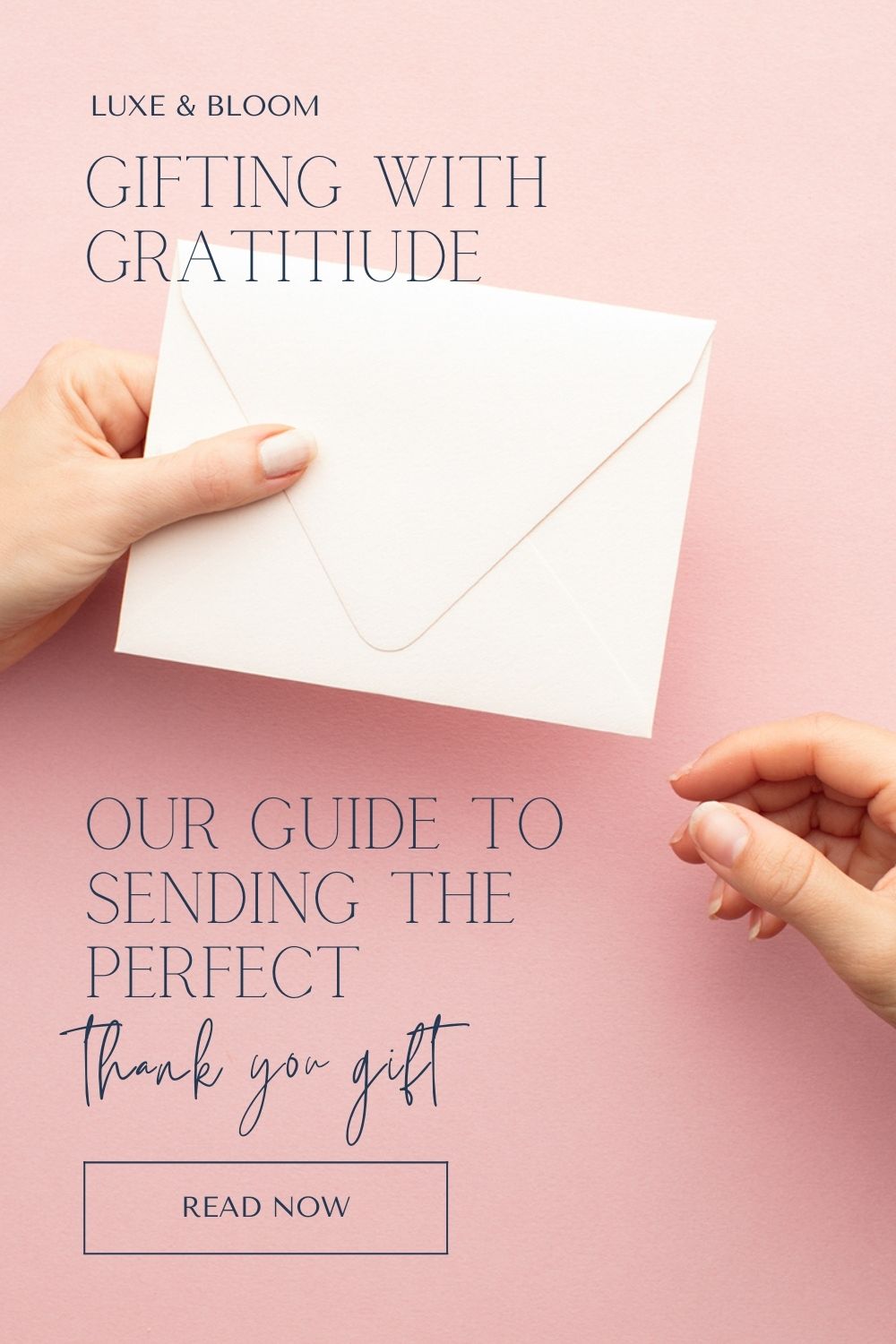 S

ending the perfect thank you gift.

Sometimes a quick text or simple email just isn't going to cut it. When it comes to showing gratitude, nothing says it quite like a thoughtful gift. In today's digital age, a handwritten note may seem quaint, but there's just something about receiving a physical token of appreciation that can really make someone's day. That's why at Luxe & Bloom, we believe in sending thank you gifts whenever the occasion arises.

Whether you want to say thank you for a favor, as a way of saying "job well done", or simply let someone know how much you appreciate them, our curated gift box selection is sure to have the perfect present. In this blog post, we will explore some of the best thank you gift box ideas out there. We'll also provide tips on how to choose the right gift for each recipient, and offer advice on shipping and packaging your gift professionally. So read on, and start gifting with gratitude today!
Finding the right gift.
Finding the right gift is a challenge, because you want to give someone something they'll love, but you also want it to reflect your own personal style. Tastes vary, so it's important to take the time to consider what each person you're gifting might like. If you know the recipient well, think about what they love and appreciate most in life. For example, if your friend is a foodie, you might want to send them a gourmet thank you gift box filled with delicious treats. Or if your boss is always on the go, a luxury travel-themed gift box might be the way to show your appreciation.
A few of our favorite thank you gifts:
The perfect mix of warmth and happiness. We love this gift for staying connected or saying thank you! It includes our gourmet sweet & salty popcorn from Popinsanity, a Capri Blue mercury glass candle in the scent Guava Blossom, and a Goodio coconut chocolate bar.
This gift box is the ideal mix of relaxation and indulgence that will leave her feeling pampered and refreshed. The perfect way to show your appreciation for all that she does! It includes a luxurious Imagine shea butter handcremé from Lollia, a lush french lavender body wash infused spongette from Spongellé, and a gourmet Machu Picchu coffee chocolate bar from The Chocolatier.
A best seller - our Cheers gift box was made for celebrating and is perfect for so many occasions! It includes a Rifle Paper Co. Luisa pocket notebook set, delicious Sugarfina Champagne Bubbles candy, a luxurious Capri Blue mercury glass candle in the scent Volcano, and an adorable Cheers matchbox to top it off.
These are just a few of our (and our customer's) favorites. At Luxe & Bloom, we have a wide range of gift boxes to suit every taste. We also offer custom gift box options so you can create the perfect present for anyone on your list. Our gift boxes are a luxurious and convenient way to show your appreciation.
Creating a custom gift box.
Once you've decided on the type of gift box you'd like to send, it's time to start thinking about contents. If you're opting for a pre-made gift box, this part is easy – simply choose a design that fits your needs and budget. But if you're planning on putting together your own custom gift box, the sky's the limit!
There's something special about a gift box that you put together yourself. It shows that you care, which is exactly what your recipient wants to know. But how will you know what to include in your box? When selecting items to include, be sure to keep in mind the following:
- The overall theme or message you want to convey with your gift.
- The interests of the recipient.
- The occasion for which you are sending the thank you gift.
- Your budget.
With these guidelines in mind, begin choosing gift items for your box. For a truly Luxe & Bloom experience, each gift box comes with a handwritten card expressing your gratitude. This personal touch will really make your gift stand out and show that you put thought into every aspect of it.
Presenting your gift box
Presentation is key here, but don't worry because we do all of the work for you. We are all about the details at Luxe & Bloom. From our Luxe Signature Gift Box with tissue and satin ribbon, to the handwritten note included with each gift, we pay attention to every detail so you don't have to. Just tell us what you want to say, and we'll take care of the rest!
The secret to a perfect thank you is all about the thought behind it.
A genuine, heartfelt gesture will always be appreciated, no matter what the gift itself is. So take your time, choose wisely, and most of all, have fun! After all, the best thank you gifts are the ones that come from the heart. 
Start gifting with gratitude today by browsing our selection of thank you gift boxes. With our wide range of options and expert advice, you're sure to find the perfect present for every occasion. Thank someone special in your life today, and let them know just how much you appreciate them. Browse our collection now! Thank you gifts have never been so easy – or so luxurious.